The 2019 Honda Passport is here, and it's pretty amazing
April 30 2019,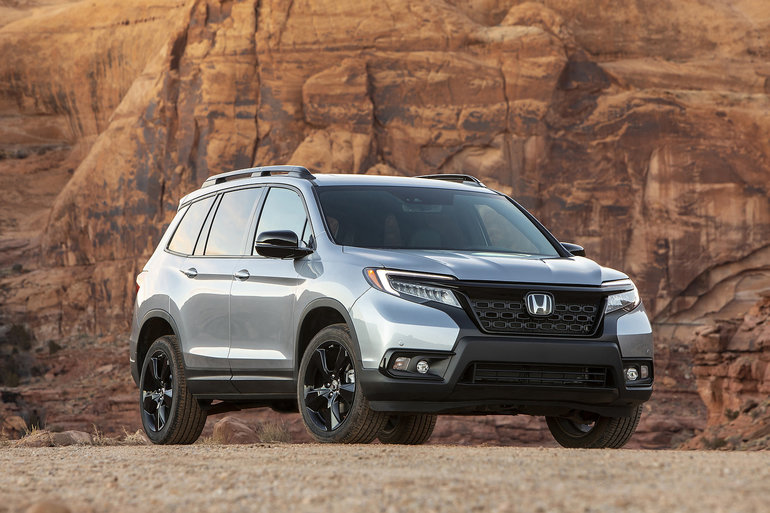 Honda is bringing a fourth sport utility vehicle to the market in 2019, the Honda Passport. If the name rings a bell, that's because this isn't the first Passport. The original SUV was available from 1993 to 2002 and was among the most capable and rugged off-road utility vehicles to come out of Japan.
At the last Los Angeles Auto Show in November, Honda brought back the Passport with a new bold look, a spacious five-seat interior, and very capable off-road abilities. The Passport slots between the Honda CR-V and the Honda Pilot in the Honda SUV lineup, but it also serves to bring the Honda utility vehicle range into a new realm of opportunities.
Known for their comfort, fuel economy and safety, Honda SUVs have always offered impressive all-weather stability, but they weren't known necessarily for their off-road capability. The Honda Passport changes that.
More Interior Space Than Any Other Mid-Sized SUV
The first thing that stands out about the 2019 Honda Passport is its interior space. With over 1,400 liters of cargo space, the Honda Passport is the most spacious mid-sized SUV you can buy. Lower the rear seats and you have access to 2,854 liters of cargo space. In other words, you will always have enough space for all of your bags and luggage in the 2019 Honda Passport.
That means that you don't have to leave anything behind when you go out and find adventure. And finding adventure is exactly what the 2019 Honda Passport is about. Powered by a 3.5-liter V6 engine with 280 horsepower and 262 pound-feet of torque, the Passport comes with standard all-wheel drive and an intelligent traction management system. Providing a range of driving modes including Snow and Mud, this system tunes the various mechanical settings of the Passport to the optimal settings for the terrain on which you're driving with your Passport.
20-inch wheels, Apple CarPlay and Android Auto, heated front seats, and Honda Sensing active safety technologies are all standard on the new 2019 Honda Passport. A heated steering wheel is also standard as well as a sunroof. The Passport isn't just about going off the beaten path. It's about going off-road without sacrificing comfort and that shows when you're on the road. The Passport is a refined, comfortable mid-sized SUV with a very capable engine that's never lacking power. It passes with confidence and handles with easy and determination.
For an all-around SUV that provides on- and off-road capabilities, power, efficiency, plenty of value and a lot of interior space, the 2019 Honda Passport is worth checking out. Book a test drive today!